Peter was watching and quickly ran outside. On his way to the tree he grabbed a nearby rope so that he could catch the wolf. Peter climbed up the tree with the rope draped around his shoulders. When Peter reached the limb that went out over the meadow he crawled to the edge of the limb. Peter asked the bird to distract the wolf as he set his trap. Sacha acknowledging the fact that Peter had saved his life earlier that day, agreed to help. The bird flew straight at the wolf's nose and right as the wolf was about to catch the bird, it flew away.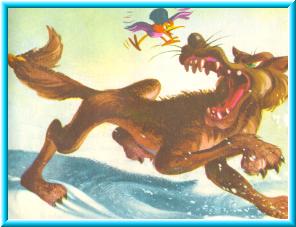 The bird continued this as Peter was setting his trap. Peter tied one end of the rope to the tree limb and the other end into a loop. Peter lowered the loop very slowly until it was around the wolf's tail.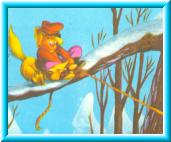 Peter quickly tightened the loop around the wolf's tail and screamed for the hunters. The hunters came very quickly and were about to shoot the wolf.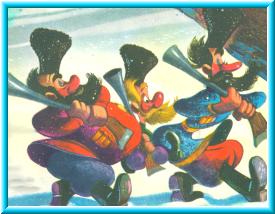 But Peter don't like that hunter shoot the wolf. So the hunters bound the wolf and led him into the village, where would be a large celebration, all were glad that the bad wolf could do nothing more now to them. And since this time the wolf lieves in the zoo.